Algonquin Park: Algopedia - Algonquin Park Camping and Canoeing


Algonquin Park is a beautiful place, some people I know call it "The Greatest Park in the Whole Wide World!" But if you are going on an interior canoe and camping trip there are things you should know. These range from what canoe is suitable, to how to start a fire, to where the best moose sightings can be found. It is my hope to present what I've learnt as well as where this information can be found.
It should also be said that there is more than one season, if you've never been deep in Algonquin Park in the month of February than you are missing out.
The Friends Of Algonquin Park
The first place to start is at The Friends Of Algonquin Park

web site. The FoAP are a charity that is dedicated to enhancing the educational and interpretive programs in Algonquin Park.
Their web site was recently upgraded and offers a wealth of planning information to assist you with any type of trip to Algonquin Park.
Map Resources
You can't get where you're going without a map. You certainly can't spend hours planning and dreaming about remote wilderness lakes or the best fishing rivers without one either.
The current standard for an Algonquin Park map is Jeffrey McMurtrie's Canoeing and Exploring Map of Algonquin Provincial Park & The Haliburton Highlands

.

The Friends Of Algonquin Park offer the Canoe Routes Map of Algonquin Provincial Park

, updated every few years. Picking one up is a great way to support Algonquin Park.
If your interest is the Highway 60 Corridor through the park a new map was released in the summer of 2011 by Clark Geomatics - Highway 60 Corridor Recreation Map

.
Trip Logs
Many Algonquin Park aficionados give back by providing photos and reports of their canoe trips. A few hours can be pleasantly spent reading any of the following:

If you write trip logs of your adventures in Algonquin Park and they are available online, let me know.
Fishing
A huge attraction of Algonquin Park is the world famous brook trout fishing, but there are many other types of fish worth going after in the park. A new resource in 2011 is Stephen Molson's Algonquin Park Depth Maps

.
There is also the yearly Algonquin Park Backcountry Trout Fishing Survey

to provide information on what lakes were "lucky", provided by the Algonquin Fisheries Assessment Unit

.
Winter Visits to Algonquin Park
It's just as fun, if a little more work, to enjoy Algonquin Park in the winter months. Only one campground is open (Mew Lake), yurts are available and popular so early booking is advised. But there are ski trails, dog sledding, snow-shoeing and of course interior camping. For more information visit The Friends Of Algonquin Park web site and thier Winter Information

page.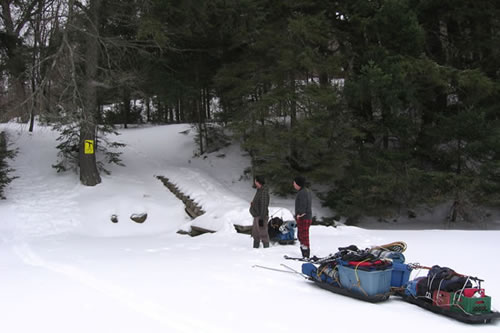 What! You still have to portage in the winter.

I've enjoyed many interior hot tenting winter trips to Algonquin Park. I've written a couple of trip logs so far that detail what's involved.
To get out in the backcontry in the winter you need snowshoes and a pulk (toboggan). I made my own pulk out of a cheap plastic toboggan, the instructions can be found here.
After some trips with my homemade pulk I decided that some improvements could be made to the original DIY design. It needed to be much longer, so the Mega-Pulk was created.
Outfitters
There are outfitting stores spread around Algonquin Park, they can provide rental and new equipment for any need. The Friends Of Algonquin Park web site provides a service listings

based on what area you are planning on going to.
Forestry / Logging
Logging is a permitted activity in Algonquin Park and there's a good chance you'll come across some while on your interior canoe trip. The Algonquin Forest Authority

makes available information about forestry operations each year so you can plan around it.
Annual Work Schedule Information

.
Algopedia
Algonquin Weather

Jump To...
Fishing Forestry Friends of
Algonquin Park Map Resources Outfitters Trip Logs Winter in Algonquin
Submit An AP-NLC Visit