Contact SmedleyCo.com
Site News / Updates
February 17, 2016
Want to go winter camping but don't know how to get all your gear into the snowy bush?
Find out how to make a DIY Mega-Pulk. It's easy!
January 10, 2016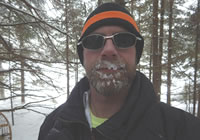 Ready for winter camping? Read the story of last winters very cold trip. Winter Camping 2015.
December 31, 2015
Named Lake Challenge updates. Find out who's winning.

Contact Smedleyco.com