SmedleyCo
Welcome
This site has been created to provide a gathering point for information on my varied interests. It is where I hope to document my hobbies, past times and some work experiences. At the moment these include canoeing and camping - mostly in Algonquin Park, boatbuilding - specifically canoe building and the world of technology.
What you will find on this site:
Algonquin Park - I normally attempt a visit a month to beautiful Algonquin Park in central Ontario, and yes this includes winter camping. I provide general information on traveling to and back-country camping in Algonquin Park, as well as trip logs of my interior wilderness camping trips.
Looking for Algonquin Park Trip Reports? Go to Trip Logs here.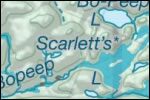 Named Lake Challenge - I have created a challenge for Algonquin Park adventurers based on JeffreyM's Algonquin Park map.
This is the Official AP-NLC site, find out who's been to any of the Named Lakes in the interior of Algonquin Park and submit your own trips as well.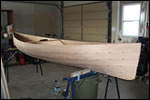 Sassafras 14 - For longer than I care to admit I have been building a stitch and glue canoe. The Sassafras 14 canoe is from Chris Kulczycki's book The Canoe Shop. You can follow the pictures along as I go through the entire build process, from cutting the planks to fiberglassing. Hopefully your attempt will be quicker than mine.
Blog - Since it sometimes takes quite a bit of time to create the trip reports and just generally get around to web site updates I have started a "blog" or updates section where I can post more frequent short content updates. This is also where I will post items that don't "fit" into a web site area.
Site News / Updates
January 3, 2014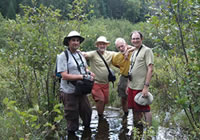 Now posted in the Trip Logs, Meanest Link Part Two. Read all about it here.
NL Challenge
A fun new trip challenge for Algonquin Park canoers and campers.Try the AP-NLC.


Contact Smedleyco.com
Tweets by @SmedleyCo