Trip Log: June 30 - July 4, 2010 Cedar Lake Long Weekend.
Day 3

Resupplying?

I was the last one up, not uncommon, and it was a beautiful morning. There was some grumbling about a motorboat disturbing the peace of our little beach campsite. Can't say I disagreed!


It looked like it was going to be a gorgeous day and yet it was somehow arranged that Mark and I would spend it paddling back to Brent and then drive out to get restocked on food and alcohol. How did that happen?

So we spent the middle part of the day driving to Mattawa, had a great late breakfast and restocked. I later found out we could have turned right at the highway and had a ten minute drive instead of hours! But it was a pretty darn good breakfast.

We made it back to our campsite mid-afternoon and were able to join the girls hanging out on the beach. It was nice having cold drinks and fresh snacks. The rest of the day was spent pretty much doing nothing. We went out and tried some fishing around one of the islands without much success other than a few nibbles.


It was a nice sunset and it looked like the weather would be good again tomorrow.

Day 4

Left to our own devices


Today Mark and Joan were leaving, giving us the campsite for another night alone. Not long after breakfast we said our goodbyes and watched them paddle away. However, what we didn't know at the time was that they were wind bound on the nearby shore for hours. They should have just stayed with us and had some beers!



Mark and Joan leave, giving us the site.


The sun was shining but the wind was brisk, perfect for sun tanning without getting too sweaty. Today was a day to relax on the beach and that's what we did. The most I did was spend a bunch of time trying to get a decent picture of a wolf spider. She was pretty quick and wouldn't sit still long enough to snap a picture.



Relaxing and enjoying the beach.

Day 5

Departure day


Today was our last day, we were heading out. I usually like to relax and not rush leaving, however my wife has a different approach. So we were packed up, paddled out to Brent and on our way early. In fact we were at the Brent Crater lookout before 8 AM.



View from the Brent Crator lookout.


Cedar Lake is a great spot, I'm always thinking I should head back there as it seems like the perfect spot to sit back, relax and take in what Algonquin Park offers. Assuming you get lucky with the weather, bugs and campsite selection. I think I'll plan another trip there soon.
Algonquin Park: Camping Trip Logs: 005 - Cedar Lake Long Weekend
Trip Log 005
Access:
Access Point #27
Brent (Cedar Lake)
Overview:
Relaxing five day basecamp trip over the July long weekend. We were able to spend a couple of days with friends before enjoying a couple of days on our own. The weather was a mixed bag but we enjoyed the beach while the sun was out.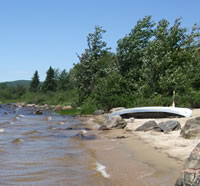 Submit an AP-NLC Visit