Trip Log: June 30 - July 4, 2010 Cedar Lake Long Weekend.
There had been the usual week long spring trip, along with a few other shorter trips before that, so coming up on the July long weekend it was decided to have a camping trip with my wife. Luckily, tripping buddy Markus had similar plans, when we found out he was setting up on Cedar Lake we said that would be perfect. In the end we were able to have our trips overlap, giving us a couple days with them and then a couple of days on our own.
Map


Map - Cedar Lake.

Day 1

Getting there

It's a six hour drive to Brent and we couldn't leave until the kid was on the school bus, so that meant a late afternoon arrival. We rented a cheap aluminum canoe from Jake at Algonquin Outfitters Brent and were under way in short order. It was overcast but not rainy with a decent temperature and a tailwind.

We didn't know what campsite Markus was on, but we knew which one he was hoping to get and a couple backup ones. As it turned out he was on the prime beach site and easy to find.


The tent was soon setup and we were able to relax, make our dinner and then catch up with Mark and Joan around a roaring fire.

Day 2

Happy Canada Day!


Day two, Canada Day, was another overcast and windy day. After a leisurely breakfast Mark and Joan went for a paddle, but it looked like I was on my own in the rental.


Even the seagulls weren't doing much of anything.


It was a bit choppy solo paddling, so I started wandering around the island we were on. Just tromping through the rocks and trees to see what could be seen. Algonquin always amazes me. While walking around this small island I came across several old tree stumps, remnants of the massive trees that once populated the park.



Stumps and rocks around the island.



This was probably a really nice cedar.


We'd seen an osprey a couple of times and I made an attempt at getting a good photo.


Finally the sun started beating the clouds away and the day warmed up even if the wind was still a bit brisk. With the weather improving we were able to enjoy our cocktails hanging out on the beach. Mark and I gave fishing a shot as well but did not have any luck.

While out doing a bit of fishing we also thought we'd collect some driftwood for the camp fire. We were at the shore in about 8 inches of water when I stepped out. Apparently that was all it took for Mark to end up on his ass in the lake. Watch out for those empty canoes, they're tippy!


I managed to get in the lake for a short swim, but even with the sun it was a chilly day. Dinner and relaxing some more around the fire ended the day, along with a nice sunset.
Algonquin Park: Camping Trip Logs: 005 - Cedar Lake Long Weekend
Trip Log 005
Access:
Access Point #27
Brent (Cedar Lake)
Overview:
Relaxing five day basecamp trip over the July long weekend. We were able to spend a couple of days with friends before enjoying a couple of days on our own. The weather was a mixed bag but we enjoyed the beach while the sun was out.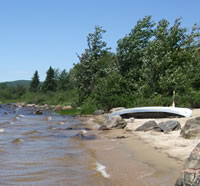 Submit an AP-NLC Visit