Trip Log: May 8 - 14, 2014 Bonnechere River.
Day 2

May 9, 2014 - Crotch Lake to McKaskill Lake

Up at a decent time the weather was a little overcast but looked like it would be clearing. Coffee just wasn't the same without John around to get things started. We all kind of ended up at the firepit, groggy and sleep-eyed wondering why there wasn't any coffee ready. Eventually I managed to get the coffee (and Bailey's) into cups and we had our traditional first breakfast of Laurie Loves Mike egg patties.



Traditional first breakfast. LLM Egg Patties.


A bit more organizing of gear, we had items that would be going back in the cars, and tear down of tents and we were loaded in the canoes. Glad MarkS and Markus were dropping some items back off, they look a little heavily loaded.


Today involved six portages, most not too bad but there was one over 2 Kms. It turned sunny along the way but the threat of thunderstorms still remained. A quick paddle got us to the top end of Crotch Lake and an easy portage into Shirley Lake got us back into the canoe tripping frame of mind after a long cold winter.

We were a bit heavy so the decision was to do carry and a half portages, which worked out great for me since David can't calculate time very well and consistently carried much farther than he needed to.


We met a group of old timers coming out of Shirley Lake, as well as another group of three heading the same way as us. We passed through Ryan Lake and on to Shrew Lake without much difficulty. MarkS had a little trouble leading the way to the portage out of Ryan, but he eventually found it. We weren't sure what it meant when we saw a dead shrew on the trail at the last hill leading down to Shrew Lake. Not a bad omen I hope?



That's right David, 30 mininutes for 300 meters.



Mandatory quartz rock picture.


We started the 2.3 km portage from Shrew Lake to Dove Lake with the plan to have a lunch break when we reached the other side. But for some reason this moderately long portage got the better of us and we ended up taking a break barely half way through it, still doing a carry and a half. It was a picturesque trail and not really that long but it sure tuckered us out. Must have been the hills.



Shrew Lake to Dove Lake portage.



More Shrew Lake to Dove Lake portage.


First lunch of the trip and I know what Markus and I were diving into, SPAM!


It's full of the good stuff. We've just never been able to figure out what the good stuff really is.


We carried on after lunch making it to Dove Lake just in time for a huge downpour, thunder and lightning. After a bit it eased off and we paddled across Dove Lake to the little 40 m that gets you into McKaskill Lake. David and I scouted a bit to see if this could be skipped but we couldn't find a way.



40 m portage to McKaskill Lake.


As soon as we reached McKaskill the skies opened up once again with another thunderstorm. We huddled under a tarp or overturned canoe as we waited 20 minutes or so for this one to blow past. When it did, the sun came out and rewarded us with a nice rainbow over the lake. Photographers came out of the woods.


After what felt like half an hour of photo taking, we crossed to Markus's recommend camp site on the far shore point. Tents and tarps were quickly put up in case the rain decided to return. It was a good sized site with wood pretty easy to find since we were the first campers of the season.

I was on supper duty so the camp chores were taken care of, a fire started and preparations quickly under way. We were able to enjoy our pre-dinner cocktails while I whipped up Chicken in a Spicy Spinach Sauce with rice. Only since I had prepared the "spicy" sauce before John had to cancel, it was Chicken in a Slightly Spicy Spinach Sauce. But I don't think anybody noticed.



David chopping kindling for the cooking fire.



Two thumbs up, it's always a gamble that they will like it.


Just before eating the wind picked up a lot and we ended up taking the tarp down as we were afraid something would give way. There'd been some fog on the lake earlier but it sure got pushed away quickly.





David, obviously the newest member of the crew, bailed to bed while the rest of us hardy campers enjoyed a night cap. As usual we seemed to be having issues with the gravity bag, this time David's Platypus. We ended up letting the bag run all night to barely get the reservoir bag filled. It would be primarily using pills to treat our water for the rest of the trip. When it started raining again in earnest we all ran for our tents and a good nights sleep.

It had been a good first day, lots of laughs as usual. The skies had remained overcast most of the day and it was very hot and muggy which caused us to get pretty sweaty on the portages. My boots were already started to develop that unique backcountry boot aroma. Surprisingly, I also ended up with a new nickname. There always seems to be one guy that gets one on a trip, guess it was finally my turn.
Algonquin Park: Camping Trip Logs: 029 - Bonnechere River
Trip Log 029
Access:
Access Point #17
Shall Lake
Overview:
After a very late ice-out, we embark on a week long river trip down the Bonnechere River. After months, if not years, of wanting to do this trip and some major setbacks right before the start, four of us travel from Crotch Lake to the top end of McKaskill Lake and the start of the mighty Bonnechere River.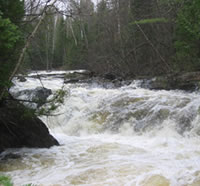 An amazing ride down the fast flowing waters of the river and exiting Algonquin Park south of Basin Lake through the Bonnechere River Provincial Park.
Submit an AP-NLC Visit