Trip Log: May 8 - 14, 2014 Bonnechere River.
Some 23 years ago three voyageurs tackled the mighty Bonnechere River in Algonquin Park's southeast corner. Taking 4 days to make their way downstream from McKaskill Lake to Turners Camp. Real men on a real canoe trip in rugged Ontario landscape. The triumph of their journey kept mainly to themselves, not feeling the simple deed required any recognition from others.
Some 9 years ago six ill-prepared, apparently deranged, paddlers from our Nations Capital attempted the might of the Bonnechere River from McKaskill Lake to Round Lake outside of Algonquin Park. Subsequently whining and complaining to such a degree that this epic route was removed from the Official Canoe Routes Map of Algonquin Park.
This year, four throwbacks to the courier du bois

of yesteryear pick up the gauntlet of travelling the historic Bonnechere River. This is their story.
Map


Map - Bonnechere River.

Day 0

Planning

It took over four years for this trip to happen. It started with me sending an e-mail inquiring about the route, led into two Meanest Link trips and a visit to Burntroot Lake before circling back to the Bonnechere River. That's how Algonquin Park trip planning goes sometimes.

The e-mail was to the Scarlett Brothers of course. The reply was that they had done the trip before, of course. I received a detailed response with pictures, and after seeing the pictures how could you not immediately say "We're going down the Bonnechere!" That's what I did.



Scarlett Trip, Bonnechere River 1991.


We had many e-mails flying back and forth amongst our group of canoers - who could make the trip, what the river would be like, what gear to bring etc. The usual stuff for us. It was finally decided who the six brave souls would be and dates were set.

Two unusual things about this particular trip was the very tough winter that lasted long into spring. It was decided that ice-out was too iffy for our first of May start and we pushed it to May 8th. Given that Ontario Parks actually banned all backcountry permits until May 9 that was a darn good idea. Secondly, we were very aware of another group tackling this trip and having a miserable time. We thought we could do better, I guess we'll find out if we did!

As the Bonnechere River is not a regular canoe route there were a lot of unknowns, but we approached the trip as we would any of our week long adventures. By the time May 8th came around we were well prepared but lacking in able-bodied paddlers. Jeffrey had map business to take care of and had bowed out leaving us with five. And then, just the day before our start, John took ill and could not make the trip. A little last minute rearranging of gear and food allocations and the four of us remaining (MarkS, Markus, David and I) promised each other we would be where we said we'd be when we said we'd be there.

And we were.

Day 1

May 8 2014 - Preparation


MarkS and Markus traveled early on Thursday May 8th and handled our car shuttle since we would be finishing at a different location than our start. They then got their permits, paddled across Crotch Lake and set up camp awaiting the arrival of David and me. After meeting in Barrie we car-pooled up to Access Point #17, arriving at 6:30 PM as planned.

I found it slightly amusing that on the wall in the permit office they had a big map of Algonquin Park with our route clearly marked out. That makes their wall map almost ten years out of date.


In short order we too had our permits and were loaded up as a light rain began. Two minutes later we came ashore to the warm welcome from MarkS and Markus.



Launching area on Crotch Lake.


Tarps were already strung and the fire going, David and I quickly put our tent up before the rain came back. Once settled in we were able to catch up with each other on life's goings on and such things. A cocktail or two was enjoyed as we watched Markus cook up some venison (steak and burgers) along with rice, onions and mushrooms for dinner. Delicious!



Venison cooking over the fire.


A bit more time around the fire but then it was off to the tents. It'd been a long day and we were filled with anticipation of what our Bonnechere River trip would bring us.
Algonquin Park: Camping Trip Logs: 029 - Bonnechere River
Trip Log 029
Access:
Access Point #17
Shall Lake
Overview:
After a very late ice-out, we embark on a week long river trip down the Bonnechere River. After months, if not years, of wanting to do this trip and some major setbacks right before the start, four of us travel from Crotch Lake to the top end of McKaskill Lake and the start of the mighty Bonnechere River.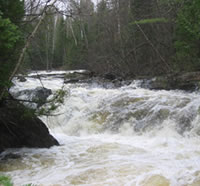 An amazing ride down the fast flowing waters of the river and exiting Algonquin Park south of Basin Lake through the Bonnechere River Provincial Park.
Submit an AP-NLC Visit