Trip Log: May 8 - 14, 2014 Bonnechere River.
Day 5

May 12, 2014 - Hydro Line to River near Cloverleaf Lake

After a great nights sleep we were up at a decent hour for some scrambled eggs, bacon and bagels with our coffee. But then we had some camp robbers show up and it took a long time to get the gear packed up because everybody was busy taking pictures of them. The day was sunny but a little cool.



Camp Robber. (It's on the tripod.)



Photography crew in the middle of Algonquin.


We also spent a good amount of time getting the GoPro cameras mounted so we could do some filming today. Eventually, about 10:15 AM we started paddling. A few bends of the river later we came across some sort of fish tank contraption. We had a peak but couldn't really figure out exactly what their purpose was. Fish research or something we guessed.



Unknow fish buckets floating in river.


The river was still wider and slower at this point, but then we reached Bridge Dam and decided we would give it a run. We figured it was safe since when we were standing there checking it out we watched a beaver go down the rapids. First and likely only time I'll see that.



Easy paddling section of the Bonnechere River.



MarkS examines the rushing water.


David and I shot through the rapids without trouble and then waited up for the two Marks, but they decided to mostly walk it. I think Markus was worried about grounding out his more fragile canoe.


The river had a dual personality at this stretch, periods of winding oxbows were interrupted with a length of rapids to shoot, walk or portage around. The Bonnechere River was full of fascinating aspects. After each set of swifts I felt more and more comfortable "running whitewater". Although nothing was really very large or intimidating, I was still getting my feet wet. Figuratively speaking I hoped!



Smooth water before the ripples start.


Eventually we reached a section that was not paddelable or walkable and we set off finding a portage path around. We had reached a point familiar to MarkS, he and the rest of his crew had camped at it 23 years ago. It was a sloping rock face at a small pool right before a large drop in the river. We took the opportunity to have lunch here. The day had clouded up and threatened light rain, but our exertions were definitely keeping us warm enough.



We're going to have to walk around this.



Another drop in the river up ahead.



Stretch of fast water and froth.



MarkS resting at the same site as 20 years ago.


We had to do more portaging after our lunch break. This was both good and bad, bad because you had to beat your way through the bush which was a lot of work. But good because some of the scenery that you were walking around was amazing. David and I were able to run more of the rapids than MarkS and Markus. I think I was learning something at every one and hopefully David wasn't too annoyed with my pace of picking things up.



Small falls on the main channel.



Rushing waterfall on the Bonnechere.


I did hear David give an "Oh shit!" at one point. We had just run through what I thought was a medium sized rapid, which led into another one that I don't think we hit at the right spot (likely my fault) and then as we saw what was around the bend in the river, which was nothing but air, we quickly got over to the bank. That made me freak out a little bit.



This is what we saw as we hurried to the bank.



The maelstrom that we avoided.



You wouldn't want to paddle this part.


As we are a bunch of curious guys and live for this stuff, we spent some time walking up and down the rock face of the gorge admiring and taking pictures.



Twisted exposed roots of a riverside tree.



The opposite wall of the canyon.



Nice twisty S bend in the river.



Calming down to a narrow straighter rock filled river.


This was perhaps the most interesting day so far. I really enjoyed this part of the river, running some smaller rapids and getting to photograph the big ones. Most of the time the river wasn't too wide and since our lunch break had been rock sided with trees growing right up to the edge. A beautiful bit of the Bonnechere River.





It was getting to be almost 5 PM and after keeping our eyes open for a camping spot we finally just picked a spot that we hoped would do. Finding a couple of spots big enough for a tent we got setup and changed into warm comfy camp clothes. We quickly rehydrated a chili dinner, had the nightly tot and then when it started raining in earnest decided it was time to call it a day, falling asleep to the sound of the rushing Bonnechere River.



Some nice large pines found at the camp site.
Algonquin Park: Camping Trip Logs: 029 - Bonnechere River
Trip Log 029
Access:
Access Point #17
Shall Lake
Overview:
After a very late ice-out, we embark on a week long river trip down the Bonnechere River. After months, if not years, of wanting to do this trip and some major setbacks right before the start, four of us travel from Crotch Lake to the top end of McKaskill Lake and the start of the mighty Bonnechere River.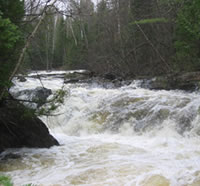 An amazing ride down the fast flowing waters of the river and exiting Algonquin Park south of Basin Lake through the Bonnechere River Provincial Park.
Submit an AP-NLC Visit