Trip Log: May 8 - 14, 2014 Bonnechere River.
Day 4

May 11, 2014 - Ice Castle Falls to Hydro Line

There was a slow groggy start to the morning today, but after a cup of strong coffee we got back into the groove of breakfast preparation and gear packing. The tents were spaced apart from each other and the cooking area with some thick brush in-between. It was a chore walking back and forth as David prepared some beef noodles for breakfast. We'd had this on last years trip as well and it's actually very tasty, but odd sounding for a breakfast.

In time, and after deciding to forgo a second cup of coffee, we loaded up the canoes and crossed the pond at the foot of Ice Castle Falls. Then we were immediately into a canyon like stretch of river with high walls and downed trees everywhere, both in the water and on the hillsides.



Stretch of Bonnechere River canyon.



Walking the improvised portage.


This stretch of river was beautiful, high tree lined cliff walls, fast moving water and narrow. We paddled short sections but it was necessary to find portages around two or three areas with longer blockages. Along one of these bushwhacking trips we found markers, indicating we were perhaps following one of the old portages.



Difficult section of the Bonnechere River.



Nice cliff face sides of canyon section.


At one point we were hand-bombing the gear and canoes over a rock choked 10 foot drop from the middle of the river. Great fun! It's a pity that this route is no longer active.



The route we decided to travel over.


Eventually the river leveled out and became calmer and started developing some oxbows. The day had also become quite hot, the sun was beating down on us and I stupidly didn't have a hat. As it's no longer a maintained or travelled route there were a lot of trees down across the river. We made our way over, under or around the best we could.



Bonnechere River starting to settle down.


At one bend we had to put ashore because of some rapids and trees. Markus must have jumped out of the canoe improperly as MarkS ended up sitting in the water. Luckily David and I were on hand, to laugh at them. Turns out we were at what I had thought of as Johns Falls, but given his recent passing, we decided to memorialize as Farley Mowat Falls (Now included in Version 5 of Jeffs Map). We portaged around the rocky curving channel that precedes the falls and had lunch at the base of the falls.



The river curving and dropping, again.


The river closed in after this with alders and the occasional fallen tree blocking the way. Despite the warm day we still were wearing our dry suits as it required a lot of walking in the cold river water to make our way through.



Working our way past a downed tree.



Photo op on a mid river blockage.


It was getting to be pretty late in the afternoon as the river seemed to widen out and slow down. Gone were the rocky canyons and shores as we got close to the McIntyre Depot Farm and the hydro line. We were a little worn out and eager to find a spot to camp.

But we did go ashore at the Depot Farm to have a look around. There wasn't much to be seen in the fields of long grass. After a quick wander we were back in the canoes and paddling past the hydro line corridor.



Markus off in the distance exploring.



The depot was more interesting back in 1991.



The hydro line corridor. Kind of bleak looking.


Shortly past the hydro line we saw a sand embankment and what looked like open ground above so we went ashore. A quick check and we decided to spend the night, it was obvious we weren't the first people to do this. We even had our choice of two proper thunder boxes.

In a pine stand we set up the tents, strung out lines to air out clothes and sleeping bags. It was a sunny, warm evening and we went about our camp chores quickly so we could get to the relaxing. With wood collected and the fire started we were able to enjoy the evenings cocktail, more Bonnie Farleys.



MarkS improvised himself a chair.



Wood for the fire, from a pile conveniently left there.



Evening cocktail. Trip can't be that bad, we've still got whisky left.


It was a great night and enjoyable to be able to relax, discuss the days travel around a fire. MarkS prepared Annie's Mac and Cheese, which was quickly eaten by four hungry guys.



MarkS serves up Annie's Mac and Cheese. A favourite.



David piles on the chipotle spice topping.


Not long after the sun went down and the moon came out we all were off to bed. Bushwhacking along the Bonnechere tires a guy out.
Algonquin Park: Camping Trip Logs: 029 - Bonnechere River
Trip Log 029
Access:
Access Point #17
Shall Lake
Overview:
After a very late ice-out, we embark on a week long river trip down the Bonnechere River. After months, if not years, of wanting to do this trip and some major setbacks right before the start, four of us travel from Crotch Lake to the top end of McKaskill Lake and the start of the mighty Bonnechere River.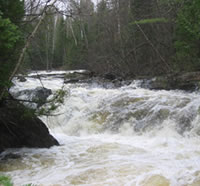 An amazing ride down the fast flowing waters of the river and exiting Algonquin Park south of Basin Lake through the Bonnechere River Provincial Park.
Submit an AP-NLC Visit