Trip Log: May 8 - 14, 2014 Bonnechere River.
Day 6

May 13, 2014 - River near Cloverleaf Lake to High Falls

Coffee, oatmeal with cranraisans and walnuts is what we woke to. That and an overcast sky threatening rain again. Today continued as yesterday ended, paddling and portaging the narrow, rock banked, fast flowing Bonnechere River. I think we were all in our element today, properly prepared and eager to continue our journey.



The two Marks walking a section.



David always thought there was a route, I just saw a bunch of foam.


It was unfortunate that David and I were able to run so many more sections than MarkS and Markus. They were in a Kevlar boat and you can't blame Markus for not wanting to take chances. As it was, I think he hit a few more rocks than he planned to and did get some pretty good gouges and scratches in his new to him canoe. If you choose to do this route I think a Royalex boat of some sort is best. Either that or being comfortable with your canoe getting pretty banged up.

For me it was great, David is a good teacher and I think I was getting a feel for the river.



Portage on the riverbank hillside.



It's not a selfie, I was trying to get David.



Quieter Bonnechere River section.



Noiser section of the Bonnechere River.


There were still lots of sections to be walked around. This meant getting the canoes and gear up on the rocky bank, there were never any easy take-outs and we were normally unloading standing in the water.

Then we would take the packs and pick our way through the brush. The trick was getting to a point downstream where you could get back on the river. A few times we would work back to the river only to discover it still wasn't paddleable.

Then we would walk back to the start, hopefully on the same path to pick up the canoes and any remaining gear and try to get to where we had dropped the packs. Luckily most of the time the portages weren't too long.



MarkS looking for a portage route.



There's a portage in there somewhere.



Follow MarkS, he's been here before.



Of course, so have the loggers.


Today there was some confusion about where exactly we were and where High Falls was since the map didn't seem to be corresponding to what we were experiencing. We couldn't even yell at the map maker since he wasn't on the trip like he should have been. But then we paddled around a bend and boom there it was, seemed to be a theme with this river.

It was about this point that the skies opened up and unleashed a rainstorm on us. We sat riverside under our canoes waiting for it to subside a bit.



Waiting under the canoe for the rain to pass.



High Falls area on the Bonnechere River.


We spent a bunch of time here, taking photographs and immortalizing our visit.



David at High Falls, Bonnechere River.



Our group at High Falls, Bonnechere River.


We followed the trail out to the road to get around High Falls, the only issue being how to know when to start heading back in to the river. We took our best guess. Which turned out to be wrong. So now we were bushwhacking with our gear along the river bank.



Mid road break, we're happier than we look.


We had our packs on the first pass through a rough section when we decided this would be a good place to camp. It was after 6 PM and we didn't think we should try to go on any further. Leaving the canoes for later we started setting up camp.

It was Beef Stroganoff for dinner, huddled under the tarp as a light mist fell. We were out of all of our libations so we reminisced about Markus going for a swim down a good sized rapid when he lost his footing. David and I had run some "big" stuff as far as I was concerned, we talked about the power of the river and the respect you have to give it.
Algonquin Park: Camping Trip Logs: 029 - Bonnechere River
Trip Log 029
Access:
Access Point #17
Shall Lake
Overview:
After a very late ice-out, we embark on a week long river trip down the Bonnechere River. After months, if not years, of wanting to do this trip and some major setbacks right before the start, four of us travel from Crotch Lake to the top end of McKaskill Lake and the start of the mighty Bonnechere River.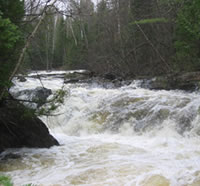 An amazing ride down the fast flowing waters of the river and exiting Algonquin Park south of Basin Lake through the Bonnechere River Provincial Park.
Submit an AP-NLC Visit