Trip Log: May 8 - 14, 2014 Bonnechere River.
Day 7

May 14, 2014 - High Falls to Lough Garvey

Today we woke up and couldn't believe it was our last day on the Bonnechere River. Everything was wet from a thunderstorm that rolled through overnight. We were getting down to the last of the food, it was coffee and granola for breakfast. I thought we would should save a splash of Baileys for last breakfast tomorrow, but it took a lot to convince Markus.

Since we hadn't finished portaging yesterday we had to shoulder the gear and carry on this morning. Eventually we reached a spot where we could walk the loaded canoes in the river, which is a little easier than walking through the bush.



In the forest next to the river.



May tripping, still some snow to be found.


It was overcast but the rain was mostly holding off, a light spit here and there. There was enough water and smaller rapids that both canoes were able to cruise right along.



Markus makes his way back up river.



Fast water, we walked and paddled.


We were having a great time on our Bonnechere River trip, others not so much.



Remains of a Merganzer we think.


It was at this point that you could feel the river calming down, there were fewer and smaller rapids and the banks were less rocky and moving farther apart. In short order we were at Basin Depot and going ashore to have a look.



Less rock in the river and along the banks now.



Heading up to check out Basin Depot.


We walked up and saw the grave site and cabin. It was a road and a cabin but it made us feel like we were back in civilization again.


Now the river was sandy banked and calm. Or, that's what we thought. Paddling around an ever present bend we were into a rapid.


David and I watched as MarkS and Markus got pushed sideways and then as their canoe got overturned. There was nothing we could do except carry on through the rapids and eddy out at the bottom grabbing what floating gear we could see on the way by.

David and I got to shore as quick as we could and bushwhacked back. MarkS and Markus had their swamped canoe at the river bank and were okay. Unfortunately MarkS had his camera out before going into the rapid and it was lost. Along with all the photos he'd taken on it so far. To add insult to injury, it was his brothers' camera.

As we left Algonquin Park the river really did calm out after this point, turning into a flooded Maple swamp that was quite interesting if a bit creepy looking. We had to work our way through, around and under many tree limbs.


We had lunch at a Crown Land site on Couchain Lake, amongst a stand of planted pine which was even creepier than the swamp. It sure isn't natural to see row after row of identically sized trees in straight lines the same distance apart. I'm not sure why you would want to camp there.



MarkS contemplates reaching the end of the voyage.



Horrible camp site among the plantation.





After a nice break and the last of my Spam we got back in the canoes for a short paddle to Beaverdam Lake and our final campsite. After rain and overcast all day the skies were lightening and the sun started to show itself just as we landed at another Crown Land campsite where we had dropped a car before the start of the trip.



Clearing skies to end the trip.


We quickly spread our gear out to dry and then everyone else took off. We had decided to go and get the vehicles from the start point today. And to get a resupply of groceries for our last night.

It was unusual that everyone wasn't jumping in their cars and heading home straight away. But we were looking forward to a mini-celebration after finishing the trip.



Clothesline set up among the pines.


I was incredibly bored waiting for everyone to get back. To sit around and have nothing to do after a week of being busy all day long put me at loose ends. Plus the bugs were starting to come alive and bite. I searched around for some firewood and got it all piled and cut some up. Then just enjoyed some sunshine.


It looked like it was clouding up and could rain again so I started putting things away as best I could. Then the guys showed up with the news that a big storm front was heading our way. We put our items away and got to work on a tarped up firepit amongst the pines. With that done we relaxed and enjoyed fresh food, snacks and having rum again. I didn't want things to get out of hand so I kept a sharp eye on MarkS when he was mixing up the Dark and Stormys. He's not to be trusted pouring!

The storm never materialized so we sat around the fire chatting and enjoying the last night. Then it was off to bed for an early start.

A quick breakfast in the morning and a round of saying goodbyes and we each were off. David and I made it to my truck in Barrie without trouble and then I was driving alone for the final stretch back home.

Epilogue


The Bonnechere River. After four years of thinking about it, I had finally paddled it. The trip itself was not a lot different than my other adventures in Algonquin Park. Perhaps taken a notch or two up in difficulty here and there, mostly by the fact that I am an inexperienced whitewater paddler. In general it was a greatly enjoyed week in the park with good friends. What more could you want?

Some people will say that this is not a trip that we should have taken, primarily because parts of it were no longer an official canoe route. I think we all struggled with that issue, but ultimately decided that it was something we had to do and that we had the knowledge to do properly.

Algonquin Park is touted as one of the crown jewels of Ontario. Yet, here is perhaps one of the best canoe routes the Park has to offer essentially off limits. For those backcountry canoeists that have moved beyond the madness and inexperience that is the Highway 60 corridor, it could be the trip of a lifetime.

So why isn't it a route?

To the best of my knowledge it is because some ill prepared trippers expressed their view that it was not possible to do, even though they had warnings that it would be a difficult trip. It is sad that the misadventure of one group, together with declining resources and interest by Algonquin Park staff, would take a canoe route away from those that are capable of experiencing it.

It is our hope that more like minded paddlers will dare to give it a try. Not for bragging rights, or to thumb our noses at Algonquin Park. But to maybe convince them that there is a viable canoe route along the Bonnechere River and that it should once again be recognized as such.
Algonquin Park: Camping Trip Logs: 029 - Bonnechere River
Trip Log 029
Access:
Access Point #17
Shall Lake
Overview:
After a very late ice-out, we embark on a week long river trip down the Bonnechere River. After months, if not years, of wanting to do this trip and some major setbacks right before the start, four of us travel from Crotch Lake to the top end of McKaskill Lake and the start of the mighty Bonnechere River.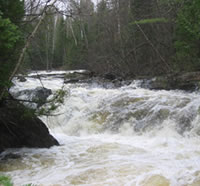 An amazing ride down the fast flowing waters of the river and exiting Algonquin Park south of Basin Lake through the Bonnechere River Provincial Park.
Submit an AP-NLC Visit