Trip Log: July 9 - July 24, 2011 Meanest Link Part One.
Day 10

July 19, 2011 - Rolling Dam to Cedar Lake

Coffee Refrain at 6:30 AM and we were awake and starting to break camp. It was a beautiful misty morning with the murmur of the rapids to listen to while eating our Breakfast Burritos. The river was like glass as we started our last day on the Nipissing River. We were off about 8:30 AM, I think everyone was looking forward to reaching Brent and "civilization".



Stillness after the mist burned off.


After not seeing a great deal of wild life up to this point, the last section of the Nipissing delivered. We ran into moose, heron, cormorant and king fishers. We skipped the 230m portage, walking and running it. This time it worked in our favor and was much easier than carrying it. The last 915m was an easy walk and we were into the grassy area before the actual lake, racing to get onto the water and away from the hoard of deerflies waiting for us at the end of the portage. Emerging on to Cedar Lake proper the lake was calm and the race to Brent was on! We'll call it a tie.



Approaching the last Nipissing portage.



Nipissing River to Cedar Lake.


We were ashore and visiting Jake and Rob at the Brent Store around 11 AM. We chatted, got our resupply and some fresh food for a layover on Cedar Lake. There was some confusion around missing food and fuel and what we would need for the last half of our trip (coffee!). But I managed to get ahold of a nice cold can of Coke and take some quiet time to enjoy it. Someday I'm going to have to do something about my Coke addiction.

Jake warned us that the forecast was for record breaking heat the next couple of days, we were glad to be staying put for a couple of nights. I think it was John and/or Jimmy Blacklegs who made some new friends and kept their old ones, managing to give away a good portion of our huge oversupply of Clif Bars to some campers from Northwoods. The girls actually seemed eager to have them?!

Given our issues with the gravity filter Mark Scarlett picked up another water filter, an MSR pump. That's what I've got and after this trip I'm thinking I'll stick with it over the gravity filters.

Eventually we were ready to go; we were hoping to get a nice beach site on the island. As luck would have it, it was available and we made it our home for the next two nights. We munched on some snacks and other goodies that were purchased at Jakes while setting up and getting gear out to air. We were lucky enough to have beer in our resupply so we took a moment to celebrate officially completing one part of the Meanest Link!



My home for the next two nights.


Swimming, washing, laundry, fishing and relaxing were the order of the afternoon. Markus and I headed out in the canoe to fish a shoal area we knew of and had a bunch of nibbles but nothing stayed on our barbless hooks. After a bit of fishing we headed in to shore to collect some driftwood. I guess I should have told Markus I was jumping out because when I turned around he was sitting on his rear in about a foot of water. Sorry Markus.

While we were doing this Jimmy was out exploring the area, returning with an old life vest and a can of Heineken. It was put in our cooler bag to chill and then enjoyed. Buns had been missed in our resupply so it was burger patties and Kraft Dinner, which Jim had never heard of before. We all moved our leftover K-D to his plate when he wasn't looking, he must think it's the most filling meal ever.

We had a great pile of firewood collected and it was one of those gorgeous Algonquin Park summer nights, but we could hardly keep our eyes open and bailed to our sleeping quarters pretty early. We told ourselves that tomorrow was another day.
Algonquin Park: Camping Trip Logs: 011 - Meanest Link Part One
Trip Log 011
Access:
Algonquin Outfitters
Huntsville Store

Overview:
A grueling 280 km trip that starts outside of Algonquin Park in Huntsville, travels up to the northern border at Cedar Lake before returning down the center to Lake Opeongo.
Six on Six, is the name we gave to our expedition as there were six guys traveling on six of the rivers in Algonquin.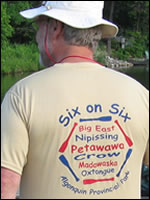 As an added bonus, we re-established a portage between Hood Lake and McCraney Lake. This involved bushwhacking 1.4 km over a hill with packs and canoes. It's not likely many people will use this portage but I hope it gets maintained in some manner after our hard work.
Read about the
history of the
Meanest Link