Trip Log: July 9 - July 24, 2011 Meanest Link Part One.
Day 5

July 14, 2011 - McCraney Lake to Mubwayaka Lake

Despite the relaxed evening before we were all up by 6 AM, John getting us going with the Coffee Refrain. Today was resupply day and we had arranged to meet Iain and Sylvia at the Rain Lake Access Point around 11ish. We broke camp and had our breakfast which I believe was oatmeal with granola and dried fruit.

It was a misty morning as we paddled off, the loons were still calling as we crossed a quiet McCraney Lake. Jim took the canoe across the flat 1675m cart trail to Rain Lake while I trudged along with my pack and a food pack.



Misty morning on McCraney Lake island.



Our first portage sign, won't be our last.


We made it in to the Access Point around 10 AM where Iain and Sylvia were already waiting with our resupply. We spent some time organizing our new food and jettisoning a bunch of gear and extra food we decided wasn't needed. We had been eating very well so far on the trip, nobody felt like they had lost any weight yet and it was decided we all were getting tired of arguing over who had to eat the leftovers.


Iain and Sylvia had brought their canoe (and dogs) so that they could paddle down Rain Lake for a bit with us. Even nicer, they had brought in some cold Lake Of Bays beer and we toasted the start of the next section of our Meanest Link.

Now a four canoe flotilla we headed down Rain Lake and found an unoccupied camp site just before the Casey Lake portage, which was where we were heading. In fact today we were pushing all the way to Mubwayaka Lake. After having a break for lunch we said our goodbyes to Iain and Sylvia.

We now had seven portages to get out of the way, it was going to be a tough afternoon that went mostly like this – paddle up to portage, hoist up pack and canoe, walk portage, put canoe in water, load gear into canoe, paddle lake, Repeat.



Hambone Lake to Ralph Bice Lake.



Ralph Bice Lake to David Lake.



End of the death march, camp site on Mubwayaka Lake.


We were all very glad to see the camp site, even with the unwelcoming skull and crossbones laid out on the rock face. It was about 4:45 PM and we were tired again. I also blew out my cheapie water sandals and now had to wear my water shoes which I found a little tight fitting. Blisters and sore feet continued, for me anyway.

The weather was continuing hot and sunny. Some of us jumped in for a swim and then I went fishing with Markus. We had no luck but saw the float plane flying overhead again. Dinner was from A Fork In The Trail again I think, Monte Cristo sandwiches and they were awesome. The site was wide open pine and after some tea or hot chocolate we didn't have any problem falling asleep listening to the loons and a far off wolf howl.
Algonquin Park: Camping Trip Logs: 011 - Meanest Link Part One
Trip Log 011
Access:
Algonquin Outfitters
Huntsville Store

Overview:
A grueling 280 km trip that starts outside of Algonquin Park in Huntsville, travels up to the northern border at Cedar Lake before returning down the center to Lake Opeongo.
Six on Six, is the name we gave to our expedition as there were six guys traveling on six of the rivers in Algonquin.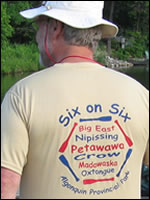 As an added bonus, we re-established a portage between Hood Lake and McCraney Lake. This involved bushwhacking 1.4 km over a hill with packs and canoes. It's not likely many people will use this portage but I hope it gets maintained in some manner after our hard work.
Read about the
history of the
Meanest Link