Trip Log: July 9 - July 24, 2011 Meanest Link Part One.
Day 13

July 22, 2011 - Crow River to Lake Lavieille

6 AM Coffee Refrain, fresh picked blueberry pancakes with New York State maple syrup and bacon before packing up, our usual start to the day. Jeffrey recounted how he got in his hammock the previous evening and had one of the trees it was tied to fall over, the root ball wasn't strong enough to hold him up and he had to restring it to another set of trees.

It looked to be the start of our 13th straight day of great weather, at least the Crow River was narrow enough to offer some shade every now and then as we paddled. Making it all the way to Lake Lavieille involved 12 portages, luckily we were able to paddle hard against the current on a couple and skip the portage. Of course this involved having to walk a few rocky sections as well.



Another great day of sunshine.


Our first test of the day was the 2.5 km portage to White Partridge Creek. A short break for John to do some calisthenics and we crossed the Creek to tackle the 1085m to Lavaque Lake.



Crow River to White Partridge Creek.



I tried to slow John down.



White Partridge Creek to Lavaque Lake.


Pushing forward we made it to Mallic Lake for a lunch stop. The northern site on Mallic is very nice, perched on a bit of a hill and under a nice red pine stand. It was such a pleasant site we ended up napping for an hour or so. Eventually we roused ourselves for three more portages and some easy river travel to get us to the shore of Lake Lavieille, where we would be stopping for the night.



Walking the river instead of the portage.



Trying to paddle up the rapids.


The wind was in our faces as we paddled out on to Lake Lavieille, but manageable with low rollers coming down the lake towards us. I think that most of us found it a nice change of pace to be able to do some steady serious paddling. After a short visit to Hayes Point, where the Scarlett Brothers were able to regal us of what it was like "back in the day" we managed to make our landing at Swifty's site.



Landing at Swifty's site on Lavieille.


The end of paddling routine of setting up and getting cleaned up commenced, we were getting to be old pros at this. Like others I jumped in to have a bit of a bath. I even tried to give my clothes a bit of wash with some soap, it wouldn't be long and we would be in public again.


Dinner was turkey chili, dehydrated up for us by our friend Joan. Great stuff. The tradition, the rules actually, of the Meanest Link for this section is to stop by Swifty's favorite site and to toast his memory. Which we did after supper.


We had a fire, mostly to burn up some garbage, and relaxed while waiting for the sun to go down. Earlier in the trip someone had noticed the lack of squirrels or chipmunks, well we finally saw a red squirrel. In fact at one point I thought he was going to crawl into Jim's hammock. We sat out a bit and watched the fire burn, our last night of being six. We would be meeting up with friends tomorrow.
Algonquin Park: Camping Trip Logs: 011 - Meanest Link Part One
Trip Log 011
Access:
Algonquin Outfitters
Huntsville Store

Overview:
A grueling 280 km trip that starts outside of Algonquin Park in Huntsville, travels up to the northern border at Cedar Lake before returning down the center to Lake Opeongo.
Six on Six, is the name we gave to our expedition as there were six guys traveling on six of the rivers in Algonquin.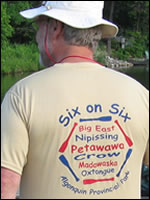 As an added bonus, we re-established a portage between Hood Lake and McCraney Lake. This involved bushwhacking 1.4 km over a hill with packs and canoes. It's not likely many people will use this portage but I hope it gets maintained in some manner after our hard work.
Read about the
history of the
Meanest Link