Trip Log: July 9 - July 24, 2011 Meanest Link Part One.
Day 8

July 17, 2011 - High Dam to Graham's Dam

Today we were up to the Coffee Refrain at 6 AM with the anticipation of a tough day on the Nipissing River. Fueled up with a bowl of oatmeal with toppings we were on the water at 8:15 AM. The day was still young but you could already feel the heat in it, and the mosquitoes were afoot.

As we paddled the twisty river we listened to stories of previous trips in the area by the Brothers Scarlett. Again Jim and I saw a Red Tailed Hawk, this time one aborted a landing in a tree when it noticed our approach.


Once again the scenery was amazing, with majestic tall Pine lining the river banks here and there. The entire group finally saw a moose, a young calf along the bank. Mom had disappeared before our canoe caught up to the others. The downside to having tall pine line the river is that occasionally they fall down and end up blocking the river. But it was part of the adventure, the same as fishing the deeper pools, portaging and more walking the canoes past a shallow spot.



Nipissing River to Nipissing River.



Markus tries the fishing again. Keep trying.



Markus whistling on the portage. Jeffrey not so much.



Walking the rapids, memories of the Big East.


We also saw a beaver and another moose, a bull this time, before reaching Highview Cabin where we stopped to explore and have some lunch. He was too quick for me though and I couldn't get the camera ready in time to snap a picture. We spent time exploring around Highview Cabin as there is quite a bit to see, odds and ends from bygone days. It looked like a bear had been chewing on a couple of corners of the cabin.



Odds and shards near the cabin.



Jeffrey "Algonquin Map" McMurtrie.



Leave it better than you found it.


We could have spent more time in the area but had to press on, there was still a lot of distance we wanted to get covered today. The day had fulfilled its promise of heat, my kneecaps were getting burnt and I started making sure they were protected with sunscreen the same as my neck and ears. I've been looking for a good tripping hat for a while now, but I'm not sure how one protects their knees from sunburn?

There continued to be a lot of obstacles in the river, around every oxbow we seemed to be hitting a beaver dam or downed tree. The portage signs even got creative at one point, just a rock holding a plastic bag on a tall stump.



Nipissing River to Nipissing River.



Even the sign guy was getting tired.



Mark sure looks after his older brother.


We reached Allen Rapids late afternoon, this is a long 2 KM portage and it really ground us down. It was super-hot and we were low on water due to the malfunctioning gravity filter. When I reached the end I flung my load down and just kept walking into the river. It helped a little. The heat was overbearing but we could see clouds starting to build up, we wondered if a thunderstorm was brewing. We pushed on, figuring it was a couple hours to Graham's Dam.



Bottom end of a rocky stretch.



Mark along the Allen Rapids portage.



A still stretch of the Nipissing River.


After a fun filled day paddling in over 30 degree heat we pulled in about 6 PM to Graham's Dam. The usual camp set up routine quickly took place and we had a dip in the fast flowing water of the rapids. There wasn't a great deal of good spots to setup and the fire pit was at cliff-edge, but the thunder box was one of the more picturesque so far.

With the sky clouding over we felt we had earned a bit of rest around the camp fire. The relaxation didn't last long as the mosquitoes came out in full force right on schedule at dusk. We also finished the last of the alcohol, it would be a dry trip until our next resupply. Just after getting settled into my hammock for the night the skies opened up and we had some thunder and lightning. Around 3 AM there was a pretty good storm going on, unfortunately it didn't seem to bring any sort of breeze to help with the humidity and stickiness.
Algonquin Park: Camping Trip Logs: 011 - Meanest Link Part One
Trip Log 011
Access:
Algonquin Outfitters
Huntsville Store

Overview:
A grueling 280 km trip that starts outside of Algonquin Park in Huntsville, travels up to the northern border at Cedar Lake before returning down the center to Lake Opeongo.
Six on Six, is the name we gave to our expedition as there were six guys traveling on six of the rivers in Algonquin.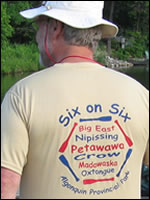 As an added bonus, we re-established a portage between Hood Lake and McCraney Lake. This involved bushwhacking 1.4 km over a hill with packs and canoes. It's not likely many people will use this portage but I hope it gets maintained in some manner after our hard work.
Read about the
history of the
Meanest Link