Trip Log: July 9 - July 24, 2011 Meanest Link Part One.
Day 6

July 15, 2011 - Mubwayaka Lake to Chibiabos Lake

Today was going to be a normal day for the Meanest Link. Which is to say, all the way to Chibiabos Lake, nine portages and mostly uphill. Coffee water's on!

As an extra bonus John provided "yogurt" along with oatmeal for breakfast. We quietly scraped it into the fire until he caught on, then he ate it all so it wouldn't go to waste.

Travel today was a lot of little lakes with long portages between them and leeches at every shoreline. Now six days in, the rhythm and routine was comfortable and I was really enjoying the area which is all black line portages. In fact the portage to Iagoo Lake GPS'd out to over 900m instead of the 610m it is marked with. It seemed that a lot of the portages in this area were following old logging roads. Markus was lucky enough to have a deer bound across the trail in front of him and a beaver was spotted on one of the lakes.



Jeffrey portaging across old beaver dam.



Pugawagun Lake to Pezheki Lake.



Portage walk in the shady woods.



Another mucky portage take out.


It was about 12:30 when we reached Tim Lake where we stopped at the western site on the island. Today's lunch was a special request of mine. Everyone wanted to ditch the Spam lunch at the resupply in favour of something else, but I said NO WAY! It was delicious, Spam and cheese with mayo on Thintini's. I could have eaten four or five of them. Not everyone was as excited as me about lunch and the conversation seemed to center around what exactly is in Spam. Unfortunately I never got a photo of the Spam lunch.



Scarlett Brothers on Tim Lake.


It was only early afternoon and we had just one more portage, the 345m into Chibiabos Lake where we were camping for the night. We took the first site right across from the portage even though there was a bit of gear there, including a solar shower bag out on the rocks. But there were no tents set up or packs, we were a little confused as to what was going on and thought maybe somebody was trying to "hold" the spot. It was Friday and we were only one portage in from the Access Point. The owners of the gear did eventually come and pick up their stuff, they were staying on the other site on Chibiabos Lake but had gone somewhere for some reason I forget. I was too busy doctoring up my feet and going for a swim. It was a scorcher of a day and we were in camp nice and early, time to relax.



Most important piece of equipment? Good Shoes.


We tried getting our fill of water, which was very much needed as the temperature was unbelievable. But the gravity water filter was causing us grief even after changing the filter. John had to break out the emergency backup SteriPen filter so we could keep hydrated.

Dinner was Salmon cakes - salmon with potatoes, cheese, mushrooms and onions with a rice side dish. It was very tasty but Jim had trouble cooking them over the fire. There was near catastrophe when the spatula broke mid flip. Luckily, that handy guy John was around to whittle up a replacement from a nearby chunk of wood before the cakes could even get too crispy.



Jim gets dinner under control.


With dinner out of the way we had a pleasant evening, things cooled down a bit. Markus and I headed out to try the fishing, skunked again. We paddled with a small group of Loons for a bit, once again the Loons were very vocal on the lake. It was a pleasant end to a good day, even with a good amount of distance traveled we were able to get into camp early and take the rest of the day easy.



Loons singing.
Algonquin Park: Camping Trip Logs: 011 - Meanest Link Part One
Trip Log 011
Access:
Algonquin Outfitters
Huntsville Store

Overview:
A grueling 280 km trip that starts outside of Algonquin Park in Huntsville, travels up to the northern border at Cedar Lake before returning down the center to Lake Opeongo.
Six on Six, is the name we gave to our expedition as there were six guys traveling on six of the rivers in Algonquin.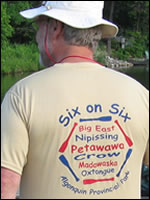 As an added bonus, we re-established a portage between Hood Lake and McCraney Lake. This involved bushwhacking 1.4 km over a hill with packs and canoes. It's not likely many people will use this portage but I hope it gets maintained in some manner after our hard work.
Read about the
history of the
Meanest Link