Trip Log: July 9 - July 24, 2011 Meanest Link Part One.
Day 9

July 18, 2011 - Graham's Dam to Rolling Dam

More oatmeal with toppings and the morning coffee to get us rolling along. We still had to carry across the portage but managed to be hitting the water around 8 AM. There's a bit of hill to get down to a nice put in, a little sandy beach with a tree growing on some rock. The Nipissing here is a little wider but still had lots of twists and turns, every now and then we would hit some gravel bars or beaver dams.


We skipped the 365m portage, thinking it looked easier to just walk it. But I think it ended up taking us three times as long as walking the portage would have. We hit some deeper spots and fast moving water that slowed us down. We did get to see a good sized snapper, he probably wondered what the heck we were doing.



Oh good, Markus made it back up.


Then we were at the High Falls portage, we spent quite a bit of time here having a little fun in the falls themselves. Along the portage there were some nice blueberries and even some old artifacts. I guess that's what you would call rusting enamel cookware? We spent as much time as we could climbing in and around High Falls before finally picking our gear up and finishing the portage.


Onwards we paddled, reaching the Nadine Lake portage after a few log lift overs. We went ashore here to find the spring. We were still having a tough time having enough water and looked forward to some clear, cold spring water. We braved the mosquitoes which were unbelievable to get the water but shoved off back into the river to eat our lunch.



Logs blocking the river, another lift over.



Nipissing River to Nipissing River.



Nadine portage spring - mosquito hords.



Lunch. You can never have too much mayo.


Through the afternoon we spotted another hawk and moose. We went through the Sedge Meadow which seemed to go on forever, oxbow after oxbow. We had to just put our heads down and paddle hard, another long day. We pulled into Rolling Dam around 6:30 – 7 PM and had a brief discussion around continuing on to Cedar Lake. Smarter minds prevailed and we set up camp at the downstream camp site.



Jim finally got his moose photo.



Another bend in the Nipissing.



Nipissing River to Nipissing River.



Rolling Dam portage sign, finally.


In no time we had found our tent and hammock spots, the hammock locations were tough to find. A swim and a dinner of beef stew and dumplings pretty much did in the last of the daylight and we climbed into our sleeping bags before the bugs could devour us. This trip was about the worst for mosquitoes and deer flies that any of us could recall. When you were walking the portages and working up a sweat the deer flies covered your neck and wet hair. A swat of your hand and you were easily catching 3 or 4 deer flies, or more.
Algonquin Park: Camping Trip Logs: 011 - Meanest Link Part One
Trip Log 011
Access:
Algonquin Outfitters
Huntsville Store

Overview:
A grueling 280 km trip that starts outside of Algonquin Park in Huntsville, travels up to the northern border at Cedar Lake before returning down the center to Lake Opeongo.
Six on Six, is the name we gave to our expedition as there were six guys traveling on six of the rivers in Algonquin.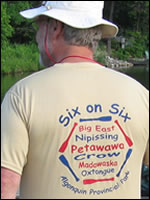 As an added bonus, we re-established a portage between Hood Lake and McCraney Lake. This involved bushwhacking 1.4 km over a hill with packs and canoes. It's not likely many people will use this portage but I hope it gets maintained in some manner after our hard work.
Read about the
history of the
Meanest Link