Trip Log: Sept 1 - Sept 14, 2012 Meanest Link Part Two.
Day 10

September 11, 2012 - Sunday Lake to Lake Opeongo

The last morning. There was a sense of eagerness as everyone gathered for coffee at 6:30 AM. Well most of us any way, some people had to be convinced to get out of bed. You really are a sitting target when you sleep hanging between two trees.



Dragging Jeff from his hammock.


Ahead of us was a small 480m portage, across little Sproule Lake and then an unmaintained 3415m portage to Lake Opeongo where we would complete our journey. But we still had to fuel up so I whipped up pancakes and bacon for breakfast, with maple syrup of course. I have to say that the five of us pretty much have this camping thing down to a science.



Markus gets the first (burnt) batch.


Shoving off around 9 AM, MarkS was back in the solo canoe as he wanted to finish with the boat he started with. It was a beautiful morning as we made our way across Sproule Lake. We had a few words with a couple with a young child, they were suitably impressed when we told them we were headed to Opeongo by the black portage.

The 3415m portage is definitely long and there are some dips and hills but overall I didn't think it was super hard. But I admit to having been preparing for this particular challenge, even engaging the services of a personal trainer to whip me into shape. My goal was to do this in one shot, canoe and pack with no stopping. With the competitive crew we had it was soon everyone's goal, as well as to do it the fastest.

So we were off in a foot race! John had his usual canoe and pack, MarkS had a large pack and camera gear, Jeffrey had canoe and pack, Markus had large pack and camera gear and I had canoe and pack.

Right off the bat I'm calling foul, John loaded up and was started while I was still fumbling trying to get the removable yoke installed on the Curtis. That's a good five minutes that should be knocked off my time. In the end I did manage to catch up with Jeffrey and jump into second place. But when he told me John was pretty much jogging along the trail I gave up any thoughts of beating him for the lead.

I figure it took me about 55 minutes to get across, not good enough to beat John's 48 minute time. But I'll keep trying.

We were now on Lake Opeongo and about to successfully finish the last section of our Meanest Link trip. Just after 10:30 AM we pulled up to the Access Point, running ashore together as is tradition. Also as usual, there were no cheering crowds. Where was everyone? We worked too hard and finished up too early, before anyone else had arrived.


This officially ended the Meanest Link. We had done it. All.

It's great to trip with a bunch of guys who make all the portaging, mud and sweat seem enjoyable. It only takes a few days of tripping to slow you down and put you on a more relaxed schedule. To make you happier and less frustrated at the trivial things that would set you off back in the "real" world. We were all engaged in the same goal and worked towards it.

Nothing is as carefree as being on an interior camping trip for me, tasks are pretty simple – get wood, carry pack, paddle. And even if some trouble pops up, like rain or a tree blocking the portage, you have no choice but to deal with it. So that's what you do, figure out the best course of action (or a course of action), which only takes a minute, and then do it. No fuss.

I feel lucky to know these guys, to have learnt all their individualities and quirks, and to continue to trip with them.

Epilogue

September 11-14, 2012 - Lake Opeongo

This time around, since it was the completion of the entire Meanest Link, we had friends and family meeting us and we were all heading in to a site to relax and celebrate. We got canoes returned, new canoes rented and shuttles arranged as people started arriving. Markus, MarkS and Jeffrey also had to make trips to get vehicles and do some extra shopping. Before long that was all done and it took two water taxis to get everyone and their gear up to the East Arm to a nice sandy beach site. The weather was windy but still warm and sunny. We even had rum back in stock. Perfection.



A bit of confusion getting ready to leave.



Telling tall tales of the trip just gettig started.



Old friends meeting in Algonquin Park once again.
Algonquin Park: Camping Trip Logs: 019 - Meanest Link Part Two
Trip Log 019
Access:
Algonquin Outfitters
Huntsville Store

Overview:
The continuation of our Meanest Link trip, Part Two takes us 205 km across the Hwy 60 area of Algonquin Park. This year our extra bonus was heading back to the Big East River.
Down one man we became the Hoodlums this year, this also became the name of our route - Meanest Link: Hoodlum Variation.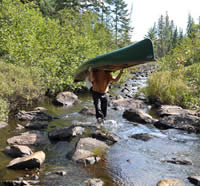 We tacked on an extra few days, heading west on the Big East River and returning through some nice low maintance areas. The trip ended with a gathering of friends and family to celebrate the completion of all legs of the Meanest Link.
Missed Part One? Read it here.

Read about the
history of the
Meanest Link