Trip Log: Sept 1 - Sept 14, 2012 Meanest Link Part Two.
Day 9

September 10, 2012 - Source Lake to Sunday Lake

Sunday on Sunday. It's likely one of those things where you had to be there, but we had many a laugh about this phrase. It took a good ten minutes to book this Sunday day on Sunday Lake with the Lake Opeongo permit office.

Permit office: "So where will you be on Sunday?"
Us: "Sunday."
Permit office: "Yes, Sunday."
Us: "On Sunday."

Maybe you get the idea, I'm laughing even as I write this.

Again we were fortunate to be at Pathfinder and it was quick work to have coffee and oatmeal when you have an entire kitchen at your disposal. We said our goodbyes and many thanks to Mike Sladden and Mary Chestnut and everyone at Pathfinder and hit the paddles about 9:30 AM. Mike also gave each of us a parting gift of a nice Nalgene bottle with the camp logo on it, I snagged a fancy red one.


Again it was a sunny morning with the promise of heat to come later in the day. We would be getting on the Madawaska River today and I was piloting the Curtis solo. But first we had a couple of portages and another crossing of Highway 60 to do.



Loading up, ready for the day's adventure.



Jeff portaging Highway 60. One hand canoe, one GPS!


I've said many times how I like to paddle rivers, solo on the Madawaska almost made me change my mind. There was oxbow after oxbow and a bunch of beaver dams. I was at a distinct disadvantage paddling with a double blade on such a narrow, twisty route. When the inevitable canoe races began I was frustrated to be so easily outpaced by the tandem canoes. I think MarkS and John planned this!



Madawaska River starting point.



In the lead for a brief moment.



Cliff face along the Madawaska River.


We took a midday break where the river bumped up against the old railway bike trail and then kept on going. More beaver dams and a long afternoon ahead of us. We had about 31 kms to go today and with the heat, winding river and some tough portages between Kearney Lake and Sunday Lake it was a slog. Markus ended up going for a bit of a dip while trying to get over one beaver dam.



Running over one of the many beaver dams.





After portaging back across the highway we passed through the closed Kearney Lake campground, somehow becoming lost from each other along the way. We eventually gathered back together and started the last little leg to Sunday Lake.

The next few portages were rougher going, very rocky, especially the put in on Pond Lake. It was MarkS's turn to go for a tumble and I saw him flip backwards into some rough bush. Luckily, he got up unscathed and carried on. It was an interesting area, with only Little Rock Lake having a camp site, an odd one on the side of a rather steep hill. Perhaps a place to go back to for a better look around.

The desired island camp site on Sunday Lake was occupied so we ended up at the east shore site, which gave us a nice sunset. A long day and we were glad to be in camp. However it was our last night on the Link. Bittersweet.


Jeffrey was on dinner duty for the last night and we were expecting a feast of course. We got five boxes of Kraft Dinner. Amazingly it felt like a feast, I guess it's true – even Crap Dinner can taste great when you are camping.


We sat around the fire talking about the events of the trip and imagining the good food and company that we hoped was waiting for us at the finish on Lake Opeongo the next day. While out hunting up firewood I stumbled across a stash of cut poles up amongst a cliff face. Made for a great fire for the rest of the night. But the weariness of the day crept over us and we were off to sleep by 10:30 PM.
Algonquin Park: Camping Trip Logs: 019 - Meanest Link Part Two
Trip Log 019
Access:
Algonquin Outfitters
Huntsville Store

Overview:
The continuation of our Meanest Link trip, Part Two takes us 205 km across the Hwy 60 area of Algonquin Park. This year our extra bonus was heading back to the Big East River.
Down one man we became the Hoodlums this year, this also became the name of our route - Meanest Link: Hoodlum Variation.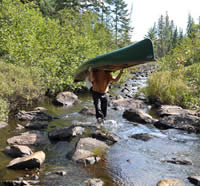 We tacked on an extra few days, heading west on the Big East River and returning through some nice low maintance areas. The trip ended with a gathering of friends and family to celebrate the completion of all legs of the Meanest Link.
Missed Part One? Read it here.

Read about the
history of the
Meanest Link