Trip Log: Sept 1 - Sept 14, 2012 Meanest Link Part Two.
Part One of the Meanest Link was such a memorable trip that I had high expectations for completing the second part. And I was not disappointed! While it was a slightly different trip, we were a man short and going a little later in the season, the good times and companionship were the same. We all missed our man James "Blacklegs" Black, but he had a really good reason for bailing on us.
We had intended to wrap up the entire Meanest Link on John's birthday (September 28) but after much discussion about how the weather and water would be so cold late in the year we moved our dates up. Starting on the Labour Day weekend and finishing, after a little extra wandering, on Opeongo Lake to meet up with friends and family.

Meanest Link Part Two Route Map.

Yes, that's what you see. Since the last two remaining links would not take us long we decided to make a small detour back to the Big East River. This meant we could paddle the Big East in its entirety and actually manage to paddle it downstream for a change.
Day 0

September 1, 2012 - Preparation

Again this year we would be starting from the Huntsville dock early on Sunday morning. That meant meeting up, getting organized and spending the Saturday night at our friends Iain & Sylvia's. I met the Scarlett's at Opeongo Lake where I was to leave my truck. We also spent a very long time getting our permits, while we had an involved interior camping trip I don't think it should have been as difficult as it was to obtain our permits. At one point we thought we would have to start the trip and then bushwhack out to the West Gate to get permits for entering Algonquin Park.

Eventually we met up with Markus and Jeffrey at Algonquin Outfitters – Oxtongue Lake and picked up our two rental canoes. Our third boat would be Mark Scarlett's Curtis solo canoe. We were now five guys instead of six, MarkS and I had agreed to take turns paddling solo and partnering up with John. Markus and Jeffrey would partner up in the second Prospector.



Jeff was a big help loading the canoes.


By late afternoon we had gotten our last minute supplies and the fixings for dinner and made the trip up to Iain & Sylvia's off-grid homestead. Great fun as always to see them and there were presents and cake too!



Markus all smiles with his gift.



The Canoe Cup I was presented with.



The fantastic cake created for us.


We also managed to fit in a little trip organization. The plan was to travel the first day with only day packs, getting the rest of our gear transferred to AO-Oxtongue. But we would also be resupplying at Canoe Lake as we passed by so a separate pile was needed for that. There was so much organizing going on that Iain and Sylvia had to enlist the help of their friend Julie to get all our vehicle and gear shuttling done for us.



Usual last minute gear panic sorting.



First stop fixings, better than usual.


Once again talk of old times and Algonquin past went on for several hours into the night. We also headed out to have a look through Iain's new telescope setup and enjoyed a stroll down the road with the dogs. Eventually we drifted off to sleep with the plan set to get up at 6 AM to start our adventure.
Algonquin Park: Camping Trip Logs: 019 - Meanest Link Part Two
Trip Log 019
Access:
Algonquin Outfitters
Huntsville Store

Overview:
The continuation of our Meanest Link trip, Part Two takes us 205 km across the Hwy 60 area of Algonquin Park. This year our extra bonus was heading back to the Big East River.
Down one man we became the Hoodlums this year, this also became the name of our route - Meanest Link: Hoodlum Variation.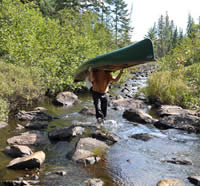 We tacked on an extra few days, heading west on the Big East River and returning through some nice low maintance areas. The trip ended with a gathering of friends and family to celebrate the completion of all legs of the Meanest Link.
Missed Part One? Read it here.

Read about the
history of the
Meanest Link