Trip Log: Sept 1 - Sept 14, 2012 Meanest Link Part Two.
Day 2

September 3, 2012 - Oxtongue Lake to Upper Twin Falls

We roused ourselves about 7 AM, finding a beautiful morning outside the tent flap. The traditional first breakfast of Laurie Loves Mike egg patties was quickly prepared on the gas BBQ. But first, Coffee! I had a small goof and had prepared a dozen egg patties, forgetting that we were short a person. So we prepared a plate for Jimmy and posted a photo to Facebook, maybe rubbing it in a bit, we knew he wanted to be with us.



Breakfast for Jimmy Blackleg. He was missed.



MarkS solo up the Oxtongue River.


We managed to eat our huge breakfast, pack up and be on the water about 9 AM, I guess we were on a more relaxed schedule this year. The plan called for about 20 Km of travel today, up river on the Oxtongue. Less than an hour later we were at the foot of the Ragged Falls and the first of the day's many portages. John was loaded up and off like a shot as usual. MarkS carried the solo canoe but had some difficulty with his pack not allowing the canoe to move, this combined with the very steep path caused him to bang the canoe into the dirt a few times.



Put in at the top of Ragged Falls.


The river above Ragged Falls is quite nice, with the occasional little swift to power up or shallow spot to walk. Everyone was in good spirits with our usual fighting over who would lead and a race every now and then. MarkS was paddling solo today and I was in the front seat of John's canoe. The down side to racing was that I didn't get to explore Gravel Falls much, it looks like an area worth going back to.



Flower reflections along the river bank.



MarkS powering up a small swift.



Walking a shallow section of the Oxtonge River.


The light clouds that had started the day were giving way to clear sunny skies, in fact it was getting hot. We stopped for lunch when the river reached Highway 60, thinking we'd cross over and check out Park Lake while eating. And that would have been a good idea if anyone had thought to bring the food with them. So we crossed back over the highway and ate on the bank of the river.


Now in Algonquin Park we hoped things would settle down. All of us have a lot of trips under our belts and we were more than a little disappointed at the nonsense we had run across already. A fire not properly put out at a camp site, tin cans and garbage littered around more than one camp site. We passed several parties going downstream who were obviously drinking. The canoe being towed and only carrying a cooler kind of gives it away.

The nature of the river also seemed to change after the Park border, seeming to be rockier, Canadian Shield type scenery. We were all impressed by the Silver Maple area, but it still didn't offer much shade for us. There was a long stretch of oxbow paddling and the day was only getting hotter.



Jeff and Markus, easy paddling along the river.


Somewhere along the way on a portage I got my obligatory quartz photograph. I'm not sure why I can't pass by a vein of quartz without taking a picture of it.


The area around Split Rock Rapids was interesting, the sensible among us took the portage while Markus talked Jeffrey into lining through the rapids. Not sure how he managed that.



Markus and Jeffrey heading into Split Rock.



Successfully navigating Split Rock Rapids.


Then it was a few more minutes to the Twin Falls, where we camped for the night at the Upper site. Arriving about 3:30 PM we had plenty of time to setup camp, have a cleanup and get dinner prepared. In full disclosure we did open the bar as well, but our garbage would be going with us and we follow the Park rules regarding cans and bottles.



Jeff relaxing and catching up on his reading.



MarkS and Markus still figuring out where they are.


John was on dinner preparations, he made us Annie's Mac and Cheese with peas, mushrooms and corn, which we all liked. As always, it's the Scarlett kitchen spices that make it delicious – curry, black pepper, garlic powder, hot pepper flakes.
After the dishes were cleaned up there was nothing left to do but relax, watch a merganser fish in the rapids and lounge around the fire. Eventually John was off to his tent and the rest of us weren't long following his lead. A long days paddle in the heat is all it takes to make sure you get a good night's rest.



Spicing up Annie's Mac and Cheese.



Algonquin Park: Camping Trip Logs: 019 - Meanest Link Part Two
Trip Log 019
Access:
Algonquin Outfitters
Huntsville Store

Overview:
The continuation of our Meanest Link trip, Part Two takes us 205 km across the Hwy 60 area of Algonquin Park. This year our extra bonus was heading back to the Big East River.
Down one man we became the Hoodlums this year, this also became the name of our route - Meanest Link: Hoodlum Variation.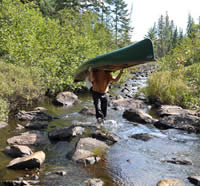 We tacked on an extra few days, heading west on the Big East River and returning through some nice low maintance areas. The trip ended with a gathering of friends and family to celebrate the completion of all legs of the Meanest Link.
Missed Part One? Read it here.

Read about the
history of the
Meanest Link