Trip Log: Sept 1 - Sept 14, 2012 Meanest Link Part Two.
Day 6

September 7, 2012 - Hood Lake to Pincher Lake

Feeling well rested after a solid nights sleep in the hammock, I dropped out when John sang out the coffee refrain. We had a good breakfast of bacon and scrambled eggs before packing up and mentally preparing for the "Hoodlum Portage," the route we created last year, a bushwhack up and over the hill to the shore of McCraney Lake. We weren't looking forward to the exertion but there was some small comfort in the fact that it would be flagged already.
We zipped across Hood Lake and quickly found last year's starting point, it looked like the flagging tape had held up pretty well.


We knew this was going to be some work so we first went with our packs, reflagging as needed. It's funny how certain sections were vividly remembered and in general you had a feel for the route after only one previous visit. Once the packs were dropped at the end we quickly retraced our steps, then it was the final pass with canoes.



Markus seemed to be enjoying himself.



Everyone took a break at the top of the hill!


I think we came across even more iron remains this year, thanks to John the human magnet. In less than 4 hours we had everything across and launched. We headed to the camp site on the nearest island, time for lunch and a bit of a rest.



We rest, John's still making harbour improvements.



Lunch, we finally got John to take a break.


We were again entering an area of low maintenance portages, a nice change from an area where no portages existed. There was also the added bonus of climbing almost 60m on the first portage, it was a killer. You would think that would get the climbing over with, but no, most of the next couple of days felt like we were always going up. Lucky me, I got to carry the Curtis solo canoe.

Once across Clara Lake we had to portage a huge bog mat area to get into Cashel Lake, we had to do this quickly because with the weight of canoe and pack you started sinking in to the muck!

Next up was portaging Cashel Lake to Pincher Lake, the portage follows the hiking trail for a portion and for some reason this caused me some confusion. I was walking along with the canoe overhead and could see getting lost among the various pathways quite easily.

Now approaching Pincher Lake, which had no canoe camp sites, we had a discussion about where to camp. It was late afternoon and the next "allowed" camp site was a distance away. There were some votes for taking a camp site and getting cleaned up, the day was cloudy and muggy and we were hot and sweaty. So the decision was reached to make camp on one of the backpacking sites on Pincher Lake, which turned out to be a good one. Just after getting the tents/hammocks setup and those who wanted to having a cleanup dip the rain started.

So now we were huddled under a small tarp having some hot drinks and then making and eating supper. My luck held as usual and I was on supper duty in the rain storm – Sheppard's Pie. Since the Sheppard's Pie only required hot water and several pots it was actually a good meal to cook under the circumstances.



Chatting before the rain came.



Warming drinks, huddled under a small tarp.



Serving supper, still under a small tarp.


The rain eased off a bit after eating but was still off and on, mostly on. With the darkness and rain everyone was getting chilled so it wasn't long before the crew was off to their comfortable sleeping arrangements. I only have the standard fly for my Hennessy Hammock and was worried about it raining all night, the wind of course changed to the worst direction for my setup. I tried putting a small tarp over the hammock for some added protection. Unfortunately the wind and rain still found a way to seep in a bit and my sleeping bag got a little wet overnight. Sleep wasn't a problem however, I was tired!
Algonquin Park: Camping Trip Logs: 019 - Meanest Link Part Two
Trip Log 019
Access:
Algonquin Outfitters
Huntsville Store

Overview:
The continuation of our Meanest Link trip, Part Two takes us 205 km across the Hwy 60 area of Algonquin Park. This year our extra bonus was heading back to the Big East River.
Down one man we became the Hoodlums this year, this also became the name of our route - Meanest Link: Hoodlum Variation.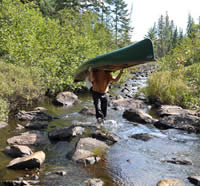 We tacked on an extra few days, heading west on the Big East River and returning through some nice low maintance areas. The trip ended with a gathering of friends and family to celebrate the completion of all legs of the Meanest Link.
Missed Part One? Read it here.

Read about the
history of the
Meanest Link