Trip Log: Sept 1 - Sept 14, 2012 Meanest Link Part Two.
Day 4

September 5, 2012 - Drummer Lake to West Harry Lake

Awakened by John shouting the beloved coffee refrain, the rest of us stumbled out of our sleeping bags just after 6 AM and discovered a very foggy, misty morning.



View of the lake in the morning fog.


MarkS prepared a breakfast of apples and oatmeal, delicious stuff.



Jeff was choosen to taste test breakfast.


Markus found a salamander and I believe it was Jeff that spotted a good sized turtle along the shore. Even with the wildlife viewing we were done our breakfast, dishes cleaned, gear packed and ready to embark at 9 AM. I was still in the solo canoe as we set off into the picturesque fog.



MarkS and John disappear into the fog.



Markus and Jeff follow the Scarletts into the fog.


The route today was all black portages, passing through Tonakela Lake, Thunder Lake and just hitting the shore of Lupus Lake. The sun started burning through the fog as the day progressed. Unfortunately the portages went in the other direction, going from not bad to a tough slog. But since the five of us are crazy, it's just the kind of thing we like – nothing like some black portages.

This is of course if you are not using the Friends of Algonquin Park Map, they bizarrely reversed the meaning of the portage colours in their last map. After decades of Red = Regular and Black = Low Maintenance, they are now reversed.



Lining up for the days first portage.



The Scarletts aren't happy when they are second.



The fog and the skies starting to clear.


Finally, about 11:30 AM we arrived on West Harry Lake with the sun shining bright. What a difference a few hours makes. We hit the lake in a marshy/boggy area with several possible routes through. I decided to follow the wise old owls while Markus and Jeffrey decided to take a dead-end route and then drag their loaded canoe across the bog mat to get back to open water. To each their own.

West Harry Lake eventually opened up and we quickly paddled across to the dam and camp site that was our destination.



Boggy entrance to West Harry Lake.



Pitcher plants were plentiful.


Before even going ashore at the camp site we went and checked out the old dam. It's a nice old log dam that's looking a little worse for wear these days.


The reason we were so eager to head to the dam was that we wanted to see if there was any water for paddling in the Big East River on the other side.


It wasn't a terrible emergency, but while looking at the dam my loaded canoe floated away. The guys were nice enough to give me a hard time and tell me to start swimming, before relenting and retrieving it for me. Just proves you must always be careful and aware of what's going on.


We finally went ashore at the nearby camp site and had some lunch and a rest. The day had turned hot and sunny and we napped a bit while nibbling on Spam wraps or whatever. Eventually we roused ourselves and set off on the next stage of the trip – finding a way past the unpaddleable Big East River. We'd had our doubts about being able to travel down the Big East River, which never seems to have enough water to float a canoe, especially in September. Luckily we had Jeff who knows a few things about Algonquin Park maps, the plan was to investigate a route along some old (as in long gone) logging roads.

We pushed our way along the old road which wasn't hard to distinguish, but it was quite overgrown and we wondered how we would manage with canoes and packs. But first we had to find deep water. After fighting branches for a little over a kilometer we got lucky, the rocks just stopped and enough water to paddle appeared. At least until the next bend.



Expedition start. Looking for deep water.



Flagging so we don't get lost.


All kidding aside, it was a fun little adventure. It's always nice to push yourself a little, to go off the well-beaten track and find your own solutions. At least we now had a plan for continuing on, the Big East wasn't going to defeat us!


We followed our flagging back to the camp site and began setting up. Four days in we had things down to a science and it wasn't long before that was done and we were off on our second walking of the newly created portage, this time taking the canoes to where we would start paddling tomorrow.

With the day's work done we were able to relax, have a cocktail and wait for Markus to cook up some chilli. A little complaining around a small fire about having to walk the "portage" three times and off to bed by 10 PM.

We didn't know what was in store for us tomorrow, how long would the water last? How much walking/portaging would we have to do? Through the night there was a brief thunderstorm, well protected under the tree canopy in my hammock it didn't break the humidity at all.
Algonquin Park: Camping Trip Logs: 019 - Meanest Link Part Two
Trip Log 019
Access:
Algonquin Outfitters
Huntsville Store

Overview:
The continuation of our Meanest Link trip, Part Two takes us 205 km across the Hwy 60 area of Algonquin Park. This year our extra bonus was heading back to the Big East River.
Down one man we became the Hoodlums this year, this also became the name of our route - Meanest Link: Hoodlum Variation.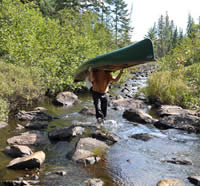 We tacked on an extra few days, heading west on the Big East River and returning through some nice low maintance areas. The trip ended with a gathering of friends and family to celebrate the completion of all legs of the Meanest Link.
Missed Part One? Read it here.

Read about the
history of the
Meanest Link