Trip Log: Sept 1 - Sept 14, 2012 Meanest Link Part Two.
Day 8

September 9, 2012 - Potter Lake to Source Lake

After a clearing and cold night we awoke to mist on the lake and the sun poking its way through light clouds. Markus was again in charge of the meal and made us pancakes and bacon to go along with the necessary cup of coffee.



Morning mist clearing on Potter Lake.



Markus cooking breakfast over a warming fire.


Now four canoes instead of three since Julian was heading out today, we set off down Potter Creek. The creek had a good amount of water and we were quickly onto Canoe Lake. We had a few races with the many Mergansers along the way. MarkS in the solo Curtis had his front thwart break somewhere near the last portage, luckily it was able to be repaired enough to carry on without too much trouble.



John and I paddle past the old lumber road bridge.



Cruising down Potter's Creek heading into Canoe Lake.


Once again we found ourselves at the Canoe Lake access point just in time for lunch! A guy could get used to canoe tripping if lunch was a cheeseburger and onion rings every day.

We used the car to shuttle the gear across to Smoke Lake but carried the canoes over. We were now back on track for the Meanest Link after our little detour to the Big East River. Unfortunately that also meant there weren't very many days left. But in the excitement of our next stop that was forgotten.

We were on our way to Camp Pathfinder. I was back paddling solo while MarkS was with John, a short paddle across the top end of Smoke Lake brought us to the 1380 m portage to Ouse Lake. We were crossing Highway 60 again, I think we did that something like 11 times on this trip. We were across the portage in a single non-stop go, because that's the way we do it even if it does involve a climb of almost 200 feet. A bit of paddling and two short portages and we were pulling up to the Pathfinder dock, expecting crowds of cheering onlookers.

There was no one.



Our canoes on the Pathfinder dock.


Through some friendships that Jeff had we were invited to spend the night at Camp Pathfinder, thinking we'd have a spot to put up our hammocks and tents. Instead they welcomed us ashore and made us feel like privileged guests, when we finally tracked down a live body.

The camp is amazing really, buildings and prospector tents in a nice cozy compound. We got a bit of a tour and the lay of the land and chatted with staff a little but eventually had to get our gear out to dry, most of it was still wet from going through 25 hours of rain. Several of us hands-on kind of guys loved the new canoe workshop.



Inside the new Pathfinder canoe workshop.


We were to sleep in their prospector tents and offered free access to the dining hall, instant hot water is unbelievable when you've been in the bush for a week. With the announcement that supper was at 7 PM and we were invited, we rushed to get our gear out on the lines. What a supper it was, fish, risotto, salad, bread and beer. We filled our plates eagerly.


It was nice to be in a comfortable place with friendly people and there were many discussions about past and future trips in Algonquin Park. But we still had a trip to finish so most of us were off to bed at a respectable hour. Camp Pathfinder was definitely a highlight of the trip.
Algonquin Park: Camping Trip Logs: 019 - Meanest Link Part Two
Trip Log 019
Access:
Algonquin Outfitters
Huntsville Store

Overview:
The continuation of our Meanest Link trip, Part Two takes us 205 km across the Hwy 60 area of Algonquin Park. This year our extra bonus was heading back to the Big East River.
Down one man we became the Hoodlums this year, this also became the name of our route - Meanest Link: Hoodlum Variation.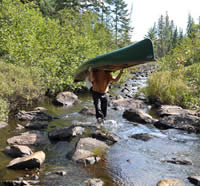 We tacked on an extra few days, heading west on the Big East River and returning through some nice low maintance areas. The trip ended with a gathering of friends and family to celebrate the completion of all legs of the Meanest Link.
Missed Part One? Read it here.

Read about the
history of the
Meanest Link